zippers
Monday, August 23rd, 2010 | Fashion, Hot Happenings, Photos, Sales, Shoes | Comments Off

on SF Barneys Warehouse Sale & Haul Photos: Suede Marni Heels
Meilily Hot Happenings & Haul Report: Barneys Sale = Marni Heels!
This year, the Barneys Warehouse Sale in San Francisco coincided with the Renegade Craft Fair, both at Fort Mason Center. Genius! Be sure to check out Meilily's pics from the Craft Fair here.
SF Barneys Warehouse Sale Highlights:
Not expecting to find much, I headed straight for the Barneys Women's Shoes section at the back. (The women's handbag and accessories selection was dismal, btw.) The first Sunday of the SF sale wasn't too crowded and there was room to sit down and try on shoes. With shoes arranged by size in typical clearance fashion, only the right mate was available on the racks. Note: Each shoe box gets sealed with rope before you can take it over to the registers! Talk about security!
After trying on some ill-fitting Prada wedges and a chic Italian multi-strap zippered heel (just a little too large), I found some super-comfortable and cute Marni suede heels (photo below) that hugged my feet when I put them on. I was immediately sold!
More on my Barneys Sale Haul Marni Heels… › Continue reading
Saturday, February 6th, 2010 | Fashion, Hot Happenings, Sales, Shoes | Comments Off

on Emporio Armani 40% Off Fall-Winter Sale: Zipper Booties & More!
Meilily Sale Alert: Emporio Armani's Fall-Winter 40% Off Sale – Ending Soon!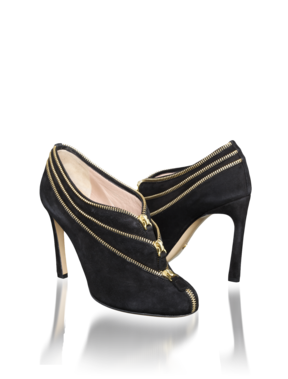 Meilily hasn't had a Sale Alert in a while, but the Emporio Armani 40% Off Fall-Winter Sale is worth mentioning just for the great selection of sale shoes and accessories this time around! Don't forget, the sale ends February 15.
Meilily's Sale Pick:
Who doesn't love a good high-heel black ankle boot, especially one decorated with zippers?! Emporio Armani's Golden Zip Shoe
is decorated with three gold zippers. (Was $780, now $468)
More Emporio Armani Sale Picks…
› Continue reading
Meilily Product Pick & Photos! Christian Siriano Petite Ruffled Makeup Bag
One of my favorite products lately has been this gorgeous ruffled makeup bag from the debut Christian Siriano Makeup Collection for Victoria's Secret Makeup. While the bag looks pretty online in the official product images, it is waaaay more amazing in person!
These exclusive product photos and details from Meilily will reveal a more unique side of the Christian Siriano ruffled makeup bag, one that could only be discovered in person (and here)… › Continue reading
*New: Get Meilily Updates by Email!
Meilily Communities
Links
*Meilily Reader Specials

Beauty & Style Favorites

Friendly Blogroll

Mom & Baby Sites

Sites That Give Back

TotalBeauty Blogs