Total Beauty
Sunday, June 21st, 2009 | General | Comments Off

on Beauty Around the Web: Total Beauty Web Tour Week of June 15, 2009
Meilily Beauty Around the Web! Just wanted to keep you posted on what's going on around the Total Beauty community: Here are some links to keep you busy this week!
[Stay tuned for IMATS makeup show coverage and photos from Meilily up next!]
The Informed Makeup Maven discovers Votre Vu and Terra Firma Cosmetics, talks summer faves and hosts MAC, Stila and Maybelline giveaways.
Beauty Anonymous shares a preview of Jill Stuart's upcoming 5th Anniversary Collection for fall 2009!
Boutique Flair is offering 2 chances to win some swag. Enter here and here by 06/21/09!
The Beauty Couch shares some ideas for getting that sexy 60's Star Trek-inspired look.
Meilily talks Fitness Shoe Skepticism: Are FitFlops & MBTs Just Glorified Platform Shoes?
Neon Bible experiments with Japanese nail art
A Little More Beautiful is giving away 1 LUSH Sweetie Stack Gift Set which includes 3 of their most popular soaps.
Monday, June 8th, 2009 | General | Comments Off

on Beauty Around the Web: Total Beauty Web Tour Week of June 1, 2009
Meilily Beauty Around the Web Welcome to June, lovely readers! Here are some links from the Total Beauty community to help you transition into summer…
***
The stars came out for the CoverGirl/MTV Movie Awards event at Byron & Tracey Salon, Beauty Junkies Unite was there!
It's 3 Custom Color Specialist Week on The Informed Makeup Maven who writes, interviews and reviews 3CCS. Don't forget to enter IMM's MAC Pack and Diorshow giveaways, and follow IMM on Twitter.
eye4style has the scoop on Sienna Miller's totally gorgeous MTV Movie Awards hair! Get the how-to here.
A Beautified Life reviews Summer Shimmer makeup that helps withstand the summer heat!
Boutique Flair features makeup with wonderful waterproof magic.
Meilily is giving away an eyeQuatic waterproof summer makeup set from tarte!
Beauty Anonymous reviews La Mer The SPF30 UV Protecting Fluid.
Celebrate Shawn Johnson's win on Dancing with the Stars… click here to enter to win a makeup bag full of her favorite goodies over at Beauty in Real Life.
Fabulous Over Forty discusses mens skincare needs and products.
Meilily took this fun beauty quiz and scored: Ms. Understood (violet-pink) – Part fashion junkie, part socialite, you love doing your own thing… Hmmm… What's your score?
Take this quiz to find out which lipstick shade reflects your personal taste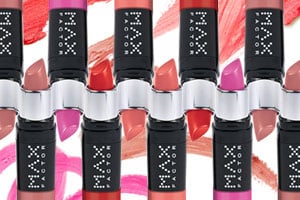 Soft on the inside yet bold on the outside, highly pigmented lip colors can speak volumes about your personality — before you've uttered a word. Find out which shade of the beauty editor- and consumer-favorite MAX Factor Vivid Impact Lipcolor you should be wearing.
*New: Get Meilily Updates by Email!
Meilily Communities
Links
*Meilily Reader Specials

Beauty & Style Favorites

Friendly Blogroll

Mom & Baby Sites

Sites That Give Back

TotalBeauty Blogs