Skirts
Thursday, August 23rd, 2012 | Fashion, Featured Looks, Stores, Style Picks | Comments Off

on Featured Look: Paris-inspired Print Blouse & Full Skirt for Summer/Fall
Paris-inspired Print Blouse & Full Skirt
Meilily Featured ShopStyle Look: Paris-inspired Print Blouse & Full Skirt for Summer/Fall!
If you've ever been to Paris and found yourself gazing longingly at any of the gorgeously understated shop windows, you'll understand the inspiration for this Featured Look.
On my first trip to Paris, I stumbled upon an amazing window display for Parisian label, Cotelac. So delightful! Such casual sophistication!
When I soon discovered that an outfit of such understated sophistication as seen in the Cotelac shop window was not to be had for less than US$1,000, I vowed to return home and recreate the look for less.
Here is an admittedly more American take on the print blouse & full skirt combo inspired by Cotelac:
The look centers on a sheer print top in an enchanting woodsy green shade like this Maggie Ward silk blouse or a DKNY chiffon blouse with animal print (if you like that sort of thing).  Of course you'll need a full neutral skirt like this Gun Print skirt by Porcelain (found at Modcloth) or › Continue reading
Saturday, February 6th, 2010 | Fashion, Hot Happenings, Sales, Shoes | Comments Off

on Emporio Armani 40% Off Fall-Winter Sale: Zipper Booties & More!
Meilily Sale Alert: Emporio Armani's Fall-Winter 40% Off Sale – Ending Soon!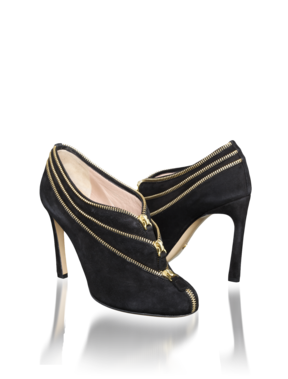 Meilily hasn't had a Sale Alert in a while, but the Emporio Armani 40% Off Fall-Winter Sale is worth mentioning just for the great selection of sale shoes and accessories this time around! Don't forget, the sale ends February 15.
Meilily's Sale Pick:
Who doesn't love a good high-heel black ankle boot, especially one decorated with zippers?! Emporio Armani's Golden Zip Shoe
is decorated with three gold zippers. (Was $780, now $468)
More Emporio Armani Sale Picks…
› Continue reading
Meilily is on vacation in Kauai this week…
I probably won't be updating as much when I'm away, and instead hope to do as much snorkeling, hiking, beach-sitting, photo-taking, ooh-ing and aaah-ing as possible…
Meilily Beach Vacation Style Pick!
In line with the beach vacation theme, here is a great swimsuit find from… Target (of all places) that works great for active beach vacations. I just tried it out during a day full of snorkeling and wandering about town, so this style pick is tried and true!
While many of you may not consider stores like Target a one-stop vacation wear shop, I found a good-coverage two-piece tankini swimsuit with swim skirt from Target's Merona clothing line for only $19.99 each piece. Given that all the swimsuits I had been looking at (J.Crew, Athleta, Victoria's Secret) were either too expensive for my current budget (over $40 per piece), oddly patterned, or too skimpy (think "coming-off-in-the-next-wave"), this Merona swim outfit was a lucky find! It's perfect for transitioning easily from street to swim, especially since the swim skirt has an attached bikini bottom!
Happy Swimming! from Meilily
*New: Get Meilily Updates by Email!
Meilily Communities
Links
*Meilily Reader Specials

Beauty & Style Favorites

Friendly Blogroll

Mom & Baby Sites

Sites That Give Back

TotalBeauty Blogs