Scarves
Check out Meilily's look from last night's Benefit Cosmetics blogger party at the San Francisco Benefit Boutique!
I attended the Benefit blogger event to preview their three new Fall 2010 products, and had a great time! What's not to love about meeting and chatting with Benefit's awesome Global Trend Artist, Annie Ford Danielson (daughter of one of Benefit's founding sisters), and also trying out hot new beauty products while sipping mini cocktails with cupcakes and grilled cheese from the new American Cupcake shop?! So glad I went!
Polyvore was there too, and they recreated my outfit as an online Polyvore set (see above). This works the same as creating a look on Shopstyle, and it's fun to do!
I actually wore a gray knit dress by Iisli, Carmen short boots by Frye, and a gray scarf from Target, but you get the picture. Check out the end result up on Polyvore!
Hope you enjoyed this look! from Meilily
Meilily Hot Happenings Recap! Favorites from the Renegade Craft Fair!
Had a great time at the Renegade Craft Fair in San Francisco this past weekend! Did you go? Loved meeting tons of designers and supporting small/local businesses at the same time.
Some of my favorite designers from the 2010 SF Renegade Craft Fair:
– Nous Savons: Not only were the lapel necklaces unique and fun, but creator Jocelyn Nguyen was really sweet and friendly.
– Catia Chien: Illustrations – Delicate and beautiful. The children's books she illustrated looked great! (Btw: Catia's not listed on the Craft Fair artists page.)
– Souldier: Loved their reclaimed seat belt camera straps when I saw them on Photojojo – So many cool colors! Picked up a forest green camera strap, and I'm still trying to imagine the car it came from! (Souldier also makes guitar straps.)
– I Made You a Beard: Well-fitting well-made yarn beards. Need I say more?
› Continue reading
Saturday, February 6th, 2010 | Fashion, Hot Happenings, Sales, Shoes | Comments Off

on Emporio Armani 40% Off Fall-Winter Sale: Zipper Booties & More!
Meilily Sale Alert: Emporio Armani's Fall-Winter 40% Off Sale – Ending Soon!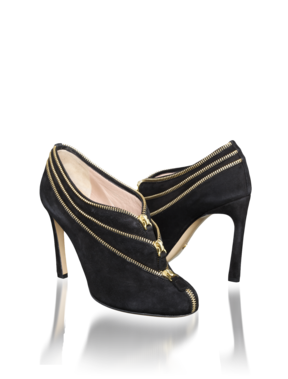 Meilily hasn't had a Sale Alert in a while, but the Emporio Armani 40% Off Fall-Winter Sale is worth mentioning just for the great selection of sale shoes and accessories this time around! Don't forget, the sale ends February 15.
Meilily's Sale Pick:
Who doesn't love a good high-heel black ankle boot, especially one decorated with zippers?! Emporio Armani's Golden Zip Shoe
is decorated with three gold zippers. (Was $780, now $468)
More Emporio Armani Sale Picks…
› Continue reading
*New: Get Meilily Updates by Email!
Meilily Communities
Links
*Meilily Reader Specials

Beauty & Style Favorites

Friendly Blogroll

Mom & Baby Sites

Sites That Give Back

TotalBeauty Blogs