Emporio Armani
Saturday, February 6th, 2010 | Fashion, Hot Happenings, Sales, Shoes | Comments Off

on Emporio Armani 40% Off Fall-Winter Sale: Zipper Booties & More!
Meilily Sale Alert: Emporio Armani's Fall-Winter 40% Off Sale – Ending Soon!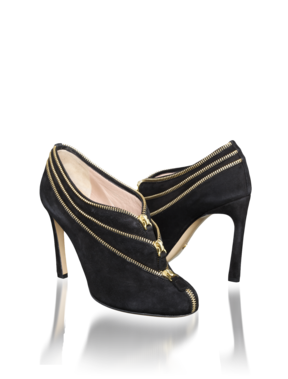 Meilily hasn't had a Sale Alert in a while, but the Emporio Armani 40% Off Fall-Winter Sale is worth mentioning just for the great selection of sale shoes and accessories this time around! Don't forget, the sale ends February 15.
Meilily's Sale Pick:
Who doesn't love a good high-heel black ankle boot, especially one decorated with zippers?! Emporio Armani's Golden Zip Shoe
is decorated with three gold zippers. (Was $780, now $468)
More Emporio Armani Sale Picks…
› Continue reading
Farfetch.com promises to fetch visitors the best and brightest of goodies from around the globe, delivered directly from far-off locales. Therefore, the site features one of the most interesting selections of shoes, clothing, and accessories around.
Though even the sale items at farfetch.com may be too expensive to splurge on at the moment, the sale section, particularly the sale shoe section, is definitely worth an inspirational peek once in a while.
For example, on my last visit, I was awed by the artistic construction of purple suede pumps by Chie Mihara (from Maison Nipi, Vigevano), the angled ergonomics of calf-length boots by Opening Ceremony (from SIX, London), and the scalloped classiness of gray patent leather peep toe heels by Emporio Armani (also from Maison Nipi).
Btw, last time I visited farfetch.com, they even had the Vivienne Westwood + Melissa Lady Dragon shoes featured by Meilily in salmon, but unfortunately they sold out.   Farfetch.com still has other unique Melissa shoes though, like the oddly appealing Mistrey by Melissa rubber gladiator sandals.
More Details on Shoes Shown Above: › Continue reading
*New: Get Meilily Updates by Email!
Meilily Communities
Links
*Meilily Reader Specials

Beauty & Style Favorites

Friendly Blogroll

Mom & Baby Sites

Sites That Give Back

TotalBeauty Blogs